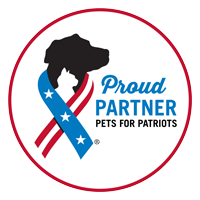 Working with Pets for Patriots allows Underdog Rescue of Arizona to give local veterans, active duty military members, and their families the gift of unconditional love while providing the most overlooked dogs and cats a second chance at life.
We offer reduced adoption fees for members who are adopting eligible pets. Find out more about becoming a member of this amazing programhere. Visitour Pets For Patriots organization page for details on what we offer to members.
In general, eligible pets must meet at least one of thefollowing criteria:
At least two years of age
Have special needs, such as a chronic medical condition
Have been homeless or not adopted for 6+ months
Be 40+ pounds at adoption
Since we focus on larger, hard-to-adopt pets, many of our adoptables meet this criteria! Still not sure? Contact our team at info@underdogaz.com to check eligibility.